This guitar has been created in collaboration with guitar player Pierre Bensusan.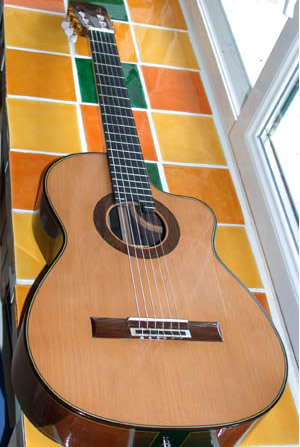 Nylon string signature model by Juan Miguel Carmona
This guitar was made and designed for Pierre by Spanish luthier from Granada, Juan Miguel Carmona. Born in Granada in 1960, Juan Miguel Carmona has learnt luthery under the guidance of renown Granadin guitarero Rafael Moreno. He took over his father's workshop and started to make his own guitars in 1987. His father was one of the main guitar polishers in Andalousia – in Spain, luthiers do not polish their guitars, they give this work to a highly skilled polisher. Juan Miguel is cousin with the Habichuela family, one of the most well known Flamenco families in Andalousia. He grew up in the right atmosphere. Considered to be one of the best of his generation, several well known artists play on his instruments (Ketama, Pepe Habichuela, Sabicas and now Pierre Bensusan).
The first Bensusan-Carmona Signature Models were delivered in April 2003. Although Juan Miguel makes both Flamenco and Classical nylon strings, the Bensusan-Carmona Signature is not a classical, nor a Flamenco but somewhere in between. The neck is not as wide as on a classical and closer to what steel string guitarists are used to. The sound, the touch, the look are all that Pierre hoped of.
GUITAR SPECIFICATIONS
CONSTRUCTION
- Back & Sides: Indian Rosewood, 3 piece back (Center piece: Ebony)
- Top: Honduras Cedar
- Neck: Honduras Cedar
- Fingerboard: Ebony
- Brazilian Rosewood rosette and bridge
- Ebony head veneer on front and back
- Ebony edges
- Black, white and green purflings
- Glossy lacquer finish
- Cutaway
- Transparent clear plastic pick guard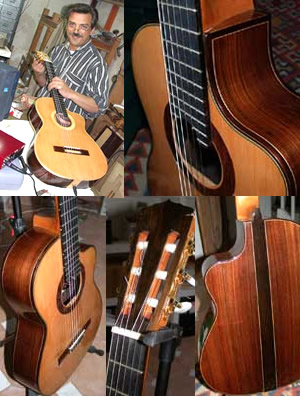 DIMENSIONS (in millimeters):
- Overall length of the guitar: 990 mm
- Length of the body: 485 mm (507 mm to the end of the heel)
- Length of the neck (from sound board to bridge side of the nut): 442 mm
- Length of the headstock: 170 mm
- Scale length: 652 mm
- Lower bout: 368 mm (wide)
- Upper bout: 272 mm
- Width of the neck at the nut: 52 mm
- Width of the neck at the 12th fret: 62 mm
- Spacing between 6th and 1st string (at saddle): 55,5 mm
- Spacing between each string: 11 mm
- Depth of the body at the heel: 85 mm
- Depth of the body at the bottom: 93 mm
- Soundhole diameter: 90 mm
- Number of frets: 21/20
- Bridge length: 103 mm
- Saddle length: 83 mm
MISC.
- Strings: Nylon, Savarez "Corum"
- Sold with a guitar case
- Maker's label inside signed by the maker and includes a dedication to Pierre Bensusan
OPTIONS:
- Side and back: Brazilian Rosewood
- Side dots: no cost
- B-Band piezo-transducer, internal pre-amp, cable, installation and tuning: 350 Euros
- Professional Fiber Glass guitar flycaisee designed by Pegasus (Scotland), in "desert cream" colour (shell) and Green Emerald (inside velvet): (ask for price)
Shipping from Spain: by post, by UPS, by Fedex, others: (ask for price)
Payment: 30% when placing the order and balance prior to shipping